Ag+ Mould & disinfection products.

Innovative. Sustainable. Consistent.
---
In this product category, we are intensively working with the substances hydrogen peroxide and (nano)silver. A great advantage of hydrogen peroxide is the decomposing into water and oxygen, which means that no active residues remain on the surface. Silver acts as an useful co-component - especially when the hydrogen peroxide lose its effect.
Hydrogen peroxide
Simple & extremely effective.
The active ingredient hydrogen peroxide is certainly one of the purest and oldest chemicals witch a wide range of application possibilities. Besides its use as a disinfectant, it is used in the cleaning industry, for hair bleaching, as an oxidising agent, in aerospace and even in the food industry. The advantages are obvious: it is the most intelligent product in its sector, because only water and oxygen are produced when it decomposes. This makes hydrogen peroxide ideal for disinfection in the food or kitchen sector.
Moreover, due to the oxidative mechanism of action, the efficacy is very broad and the formation of microbial resistances is hardly possible. Data and further information on the efficacy against gram-positive and gram-negative bacteria, viruses, yeasts, fungi, spores and more can be found in relevant literature.
The difficulty and therefore the reason for the moderate distribution lies in the stability of the product. We have the necessary know-how in stabilisation of chemicals and only use harmless ingredients.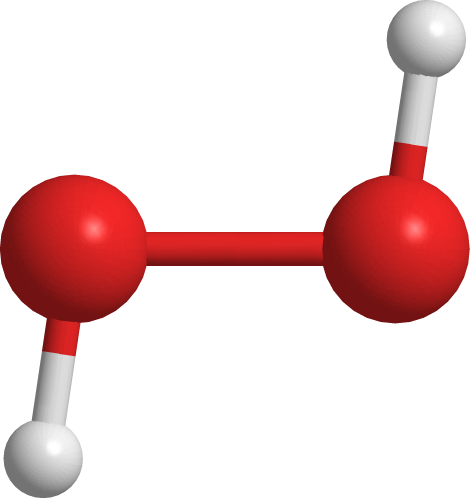 Decomposition to water and oxygen
Broad range of effects
Idealy stabilised formulation
Product formulation with silver
With the second active ingredient (nano)-silver, a formulation is created that functions as a basis for mould remover, surface disinfection or for cold fogging of rooms. Both active ingredients complement each other ideally in terms of short-term and also medium-term effectiveness, as silver forms so-called depots that can also have a long-term effect. The depot effect can be imagined as follows: When Agglomerated silver particles are exposed to moisture the particles are oxidised on surfaces and free silver ions are formed.
Although silver has been used for disinfection in all areas for over 1000 years, the mechanism has not yet been fully understood. One can assume an affinity to nucleophiles of the DNA - i.e. especially the atoms oxygen, nitrogen and sulphur. A very simplified representation is shown here. The silver is also used in wound plasters and other body applications and is sometimes described as therapeutic.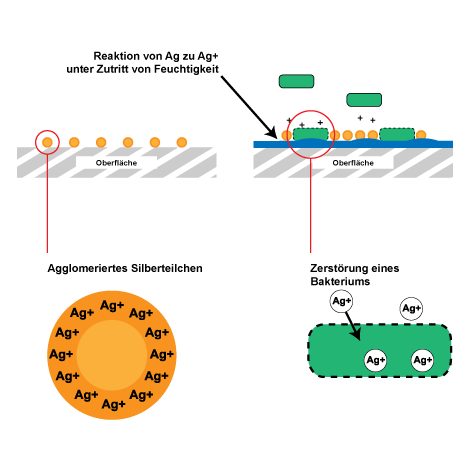 Dual-effect trough combination of hydrogen peroxide with silver
Independent effiacy-tests according to EN 16438
Consistently effective & studied formulations
Private Label Disinfectants & Biocides
We will be happy to advise you on private label matters of all kinds. You are welcome to use existing formulations as well as modified versions (e.g. perfumed). Another possibility is to receive an entirely new product as an in-house production with the corresponding tests by our partner hygiene laboratories. We can produce according to your needs for all quantities. The production and confection spectrum ranges from a few pieces to large quantities. In addition to product development, we are able to create designs, labels or marketing materials for you. Graphic designer from our company can facilitate the product design process for you quickly & easily. Of course, we are also very familiar with the legal framework and support you with the sometimes-complex biocide regulations. Potential products for a private are: mould remover, hydrogen peroxide formulations for cold fogging, hand disinfection gel, surface disinfection, disinfection wipes and much more.
Use biocidal products with care. Read label and product information before use.